A quadratura bestial ou a besta enquadrada....(páginas 66 e 67 de Learning From Experience)---versão 0.01 agora com guarnição zen
1. Undisciplined
With his horns fiercely projected in the air
the beast snorts,
Madly running over the mountain paths,
farther and farther he goes astray!
A dark cloud is spread across
the entrance of the valley,
And who knows how much of the fine fresh herb
is trampled under his wild hoofs!


9. The Solitary Moon
Nowhere is the beast,
and the ox herd is master of his time,
He is a solitary cloud wafting lightly
along the mountain peaks;
Clapping his hands he sings joyfully
in the moon-light,
But remember a last wall is still left
barring his homeward walk.
Invocation

By the flame that burneth bright
O Horned One!
We call thy name into the night
O Horned One!
Thee we invoke by the moon led sea
By the standing stone and the twisted tree
Thee we invoke where gather thine own
By the nameless shrine forgotten and lone
Come where the round of the dance is trod
Horn and hoof of the goat-foot God
By moonlit meadow on dusky hill
When the haunted wood is hushed and still
Come to the charm of the chanted prayer
As the moon bewitches the midnight air
Evoke thy powers, that potent bide
In shining stream and secret tide
In fiery flame by starlight pale
In shadowy host that ride the gale
And by the fern-brakes fairy-haunted
Of forests wild and wood enchanted
Come! O Come!
To the heartbeats drum!
Come to us who gather below
When the broad white moon is climbing slow
Through the stars to the heavens height
We hear thy hoofs on the wind of night
As black tree branches shake and sigh
By joy and terror we know thee nigh
We speak the spell thy power unlocks
At Solstice, Sabbat, and Equinox
Word of virtue the veil to rend
From primal dawn to the wide world's end
Since time began---
The blessing of Pan!
Blessed be all in hearth and hold
Blessed in all worth more than gold
Blessed be in strength and love
Blessed be wher'er we rove
Vision fade not from our eyes
Of the pagan paradise
Past the gates of death and birth
Our inheritance of the earth
From our soul the song of spring
Fade not in our wandering
Our life with all life is one,
By blackest night or noonday sun
Eldest of gods, on thee we call
Blessing be on thy creatures all
Cernnunos é o nome de um dos deuses celtas mais antigos e também conhecido como Deus Cornífero, por ser muitas vezes representado como um homem com chifres adornando a cabeça. É o Deus da fertilidade, da abundância, e Patrono da Caça para os povos antigos.
The inescapable bestiality of the human animal
is the quality from which our cherished and admired characteristics spring.



Wilfred Bion, "Learning from experience

"



Quantus tremor est futurus
Quando judex est venturus
Cuncta stricte discussurus.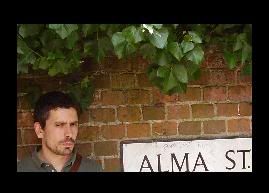 Eu bem disse que não se devia entrar na barca do diabo se não se estivesse disposto a aprender com a besta...
Eu já lá venho à muito tempo, muito mesmo.
Desde que conheci o deus cornudo (cernunnos) em barcelona,
e depois escrevi uma peça intitulada "o fim da eternidade" encenada em várias faculdades lisboetas,
Ficou publico para o publico mundial desde que publiquei um artigo que começa com uma citação a dizer:
devil:

theories are made by gregarious animals, I am individual, a victim of misunderstanding...
Venham a mim os parvos e as parvas (que significa "pequeno", criança, que pode aprender), os espertos e as espertas podem ficar em casa, venham a mim as crianças perdidas, os tolos só entrem por engano...
come to me lost children...





Blessed is he, who in the name of charity and good will, shepherds the weak through the valley of darkness, for he is truly his brother's keeper and the finder of lost children. And I will strike down upon thee with great vengeance and furious anger those who would attempt to poison and destroy my brothers.

And you will know my name is the LORD OF BEASTS hen I lay my vengeance upon thee.



eu fartei-me de avisar...

:)

nihil humanum
a
me alienum puto

(acho que apanhei sifilis....)


Bom, mas o mais importante, como diz sonho, é que isto é tudo faz de conta...é claro que é tudo sonho...! "Somos Feitos da matéria mesma dos sonhos" W. Shakespeare